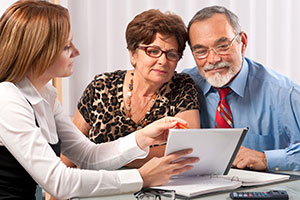 You rip your pants the day before a big presentation. Your car starts making a weird noise. You need a dog sitter pronto for an unexpected trip out of town.
Frantic, you ask for referrals.
Later, as you emerge from each crisis in a Zen-like state, you know that the value of a good referral goes beyond the perfect hem, tuned-up car or happy Fido. It's peace of mind, knowing you can focus on the PowerPoint, not your pants. Knowing you have reliable transportation. Knowing your new sofa won't be ripped to shreds. And perhaps the best peace of mind: knowing that the next time you have an emergency, you have someone who will undoubtedly help you find a solution.
Now, switch hats from the person in crisis to your role as a trusted agent or advisor.
When you refer clients seeking Medicare advice to Medicare BackOffice, you will be that person saving the day – because you're helping them find a service that painlessly helps them through the sometimes intimidating and complicated Medicare maze.They'll feel gratitude, relief and a peace of mind – all good feelings that they'll associate with you. You will be the person they come back to when they need advice.
Because of the sheer number of baby boomers reaching retirement age, the number of people seeking advice on all aspects of their retirement finances is increasing. A recent survey provides a more-detailed look into the boomer consumer mindset on Medicare:
In an August 2013 survey by Social Security Timing® in partnership with Qualtrics, 43 percent of respondents want their financial advisors to be able to address specific Medicare health plan choices.* (Of respondents who already have a financial advisor, it's 45 percent.)
When they ask you about Medicare, you don't have to know the answers. You simply refer them to Medicare BackOffice. Medicare BackOffice is a team of dedicated agents who are licensed, contracted and certified in all 50 states to provide Medicare advice and products. They assess your clients' needs and find the right Medicare product from insurance carriers that are "A"-rated or better.
Medicare BackOffice does not fix ripped seams, replace fan belts or let the dog out. You, however, might need to make a referral list of your best service providers for when your clients ask – because when they emerge in a Zen-like state from Medicare BackOffice, you fortify your place as their trusted advisor.