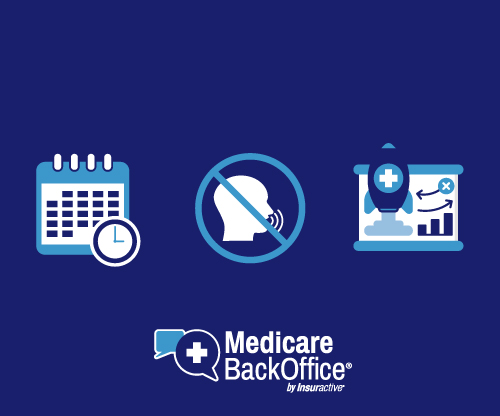 Preparing clients for their initial enrollment into Medicare at age 65 can set them up for financial success. As a Medicare BackOffice® partner, you don't have to be an expert in Medicare – you can refer clients to us to answer questions and help them find supplemental Medicare plans. But before you refer, make sure you avoid these three mistakes so that your clients can start their Medicare journey on the right foot.
Mistake No. 1: Waiting until they are 65 to start the Medicare discussion.
Age 65 is when clients become eligible for Original Medicare (Part A, which is hospital insurance; and Part B, which is medical insurance.) But enrollees actually have a seven-month enrollment period to sign up for Medicare. This period is called the initial enrollment period, and because it's based on an enrollee's birthday, it varies per person. It starts three months before the month they turn 65, incudes their birth month and concludes three months after the month they turn 65.
Your clients nearing retirement may have already voiced concerns about how to pay for the rising cost of health care in retirement – an October 2019 survey conducted by Personal Capital and Kiplinger found that about 62% of Americans over 40 said that they're worried about health care costs in retirement. But if your clients haven't brought it up, the year before their 65th birthday is the perfect opportunity, and it opens the door for you to refer them to Medicare BackOffice to enroll in the coverage they'll need.
Starting the conversation at age 64 or even earlier gives them time to educate themselves, talk to friends and check with their employer, if they are continuing to work, to coordinate employer-provided coverage. You can give clients Medicare BackOffice's "Navigating Medicare" guide, located under the Resource's Library tab on the website, and point out the chart on page seven to help them find their seven-month initial enrollment period for Original Medicare. Then you can explain that Original Medicare doesn't pay for everything, and that they should consider enrolling in a Medicare Advantage or Medicare Supplement health insurance plan and a Medicare Part D Prescription Drug plan to pay for those uncovered items. You may want to point out that Medicare does not cover most dental care. While some Medicare Advantage plans offer dental coverage, Medicare Supplement plans typically do not. You can give or show clients the dental costs infographic, located under the Resource's Library tab on the website, and also refer them to Medicare BackOffice for their dental insurance needs.
Make sure clients understand that their initial enrollment period into Original Medicare or Medicare Advantage, which takes the place of Original Medicare, is different than when they can enroll in Medicare Supplement. They can enroll in Medicare Supplement up to six months before their 65th birthday (three months in Wisconsin or New York). Clients who decide not to join a Medicare Advantage plan during their initial enrollment period can decide later to enroll in a Medicare Advantage plan, during the Annual Election Period, also called open enrollment, Oct. 15 through Dec. 7.
Remind clients that they can call Medicare BackOffice at any time to ask questions and start reviewing plans.
For other conversation entry points into the Medicare conversation, check out our "How to Have the Medicare Conversation" tip sheet, located under the Resource's Library tab on the website.
Mistake No. 2: Not telling them about Medicare penalties.
All it takes is one bad decision or missed deadline for a client enrolling in Medicare to face years of paying monthly Medicare penalties.
Review this infographic explaining Medicare penalties, located under the Resource's Library tab on the website. The main points to share with clients include:
There are two penalties to be aware of during the initial enrollment period: Medicare Part B (medical insurance) and Medicare Part D (Prescription Drug coverage.)
In most cases, your clients should sign up for both Medicare Part B and Part D when first eligible during their initial seven-month enrollment period, unless their primary coverage – such as their employer-provided health insurance plan – allows them to opt out or sign up later.
You don't have to know the details of how these penalties work to alert clients to their costly implications. Simply make clients aware of them and then refer clients to Medicare BackOffice for help.
Mistake No. 3: Failing to explain the importance of picking a good Medicare Supplement plan when first eligible (if choosing Medicare Supplement instead of Medicare Advantage.)
The best time to buy a Medicare Supplement policy is during their initial enrollment period, because they can buy any policy sold in their state even if they have health problems. After that period, they may not be able to buy a Medicare Supplement policy or it could cost more due to past or present health problems. (Changing plans later may involve underwriting, which could mean your costs may increase significantly or the carrier of the desired plan could deny coverage.)
Impress on clients the importance of buying a plan with adequate coverage for the future, not just their health needs now. If they need convincing, refer to these statistics:
According to the Centers for Disease Control and Prevention, 85.6% of people age 65 and older have one chronic condition, 56% have two chronic conditions and 23.1% have three chronic conditions. Without adequate coverage, even one chronic condition could be devastating to finances.
Every 13 seconds, an older adult is treated in an emergency department for a fall-related injury, according to the National Council on Aging. On average, the hospitalization cost for a fall injury is more than $35,000.
Medicare BackOffice Is Here for You and Your Clients
The truth is there are more than three mistakes that enrollees can make with their initial enrollment into Medicare. But by knowing these common mistakes and referring clients to Medicare BackOffice, you're helping clients start their Medicare journey more prepared so that they can avoid costly mistakes. To help them manage their health care costs after their initial Medicare enrollment, encourage them to call Medicare BackOffice each year during the Annual Election Period, or open enrollment, Oct. 15 through Dec. 7. Because insurance companies can change their plans, premiums, deductibles and drug formularies, an annual review by Licensed Insurance Agents who specialize in Medicare plans is critical to identifying changes that can be costly. Medicare BackOffice's Licensed Insurance Agents can compare plans and find your clients options that fit their budgets and coverage needs.
Not a partner? Register now for free to access resources and to refer clients.