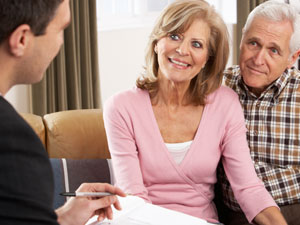 Jan. 1 through March 31 is the annual Medicare Advantage (MA) Open Enrollment Period (OEP). Your clients may ask you how this OEP is different from the annual Medicare Open Enrollment Period that runs from Oct. 15 through Dec. 7, or they may mention that they're unhappy with their plan. It's important for you to understand the difference between the open enrollment periods as well as some basics about the MA OEP — especially because there are some regulations limiting what you can do during this open enrollment.
IMPORTANT REGULATION:
The Centers for Medicare and Medicaid Services, the federal agency that administers Medicare, strictly prohibits soliciting or marketing changing Medicare plans to MA beneficiaries during the MA OEP. However, if clients bring up the topic and tell you they are unhappy with their MA or MA-PD plans, you may discuss it. You may then refer them immediately to Medicare BackOffice® by telling them to call 1.877.385.8083 or to fill out the online form. But knowing a few basic facts can help you feel more confident and understand this piece of the retirement puzzle.
Learn the Basics
The Medicare Advantage OEP is only for people with MA plans, including those who have MA plans that include prescription drug coverage, called MA-PD plans. During this time, MA beneficiaries have a one-time opportunity per year to:
Switch to a different MA plan
Drop their MA plan and return to Original Medicare (Part A and Part B)
Sign up for a stand-alone Medicare Part D Prescription Drug Plan (if they return to Original Medicare)
But it's important to know that disenrolling from Medicare Advantage could lead to penalties or leave them without the coverage they need — both potentially costly mistakes.
If your client brings up dissatisfaction with their MA or MA-PD plan and is considering disenrolling, here are four things you may want to tell them before referring them to Medicare BackOffice:
If you choose to disenroll from the MA-PD plan and do nothing else, you will have Original Medicare only and not have prescription drug coverage.
You may want to add a Medicare Supplement (also called "Medigap") health insurance plan to cover health care costs that Original Medicare doesn't cover, but if you do, you may be subject to underwriting. This means you could pay a higher premium, have a waiting period or be denied coverage.
You will need to purchase a standalone prescription drug plan in order to replace the prescription coverage you had under your MA-PD plan. Medicare Part D has a penalty if you go without prescription drug coverage for longer than 63 days in a row, and it can be costly. So if you disenroll from a MA-PD plan, don't delay in finding a replacement prescription drug plan.
Enrollment needs to be completed by March 31.
For example, if your client has a prescription drug plan (PDP), there's nothing he can do to change it from January through March. However, if your client has any form of a Medicare Advantage plan, whether it's an MA or an MA-PD plan, and is not happy with it, he can switch it out Jan. 1 through March 31.
You also should note that the Medicare open enrollment (Oct. 15 through Dec. 7) allows beneficiaries to make any number of changes to their coverage, with the final change taking effect Jan. 1 of the following year; but the MA open enrolment (Jan. 1 through March 31) allows beneficiaries to make only one change.
Lastly, they can also simply switch MA-PD plans rather then drop their MA-PD plan outright. If they do drop it, they can still get a prescription drug plan without underwriting; however, they are not guaranteed coverage or access to a Medicare Supplement health plan without underwriting.
How the MA Open Enrollment Is Different From AEP
When you or your clients hear "open enrollment," you likely think of the period from Oct. 15 through Dec. 7 each year when anyone with Medicare can join, switch, or drop an MA plan and Part D Prescription Drug plan for the following year. To confuse matters more, the Oct. 15 through Dec. 7 period is also referred to by many other names. While the public most commonly refers to it as open enrollment, it also gets called the Annual Election Period (AEP), Annual Enrollment Period (also AEP) and fall enrollment period. The government, depending where you look, calls it both Open Enrollment Period and Annual Election Period.
It is different than the MA open enrollment, however. The MA open enrollment is only for people with MA plans, including those who have Medicare Advantage plans that include prescription drug coverage (MA-PD) plans.
If clients ask what happened to the Medicare Advantage Disenrollment Period that ran from Jan. 1 through Feb. 14, you can tell them that the MA OEP replaced it starting in 2019. (To be precise, the MA OEP actually existed before the MA disenrollment period — the Affordable Care Act discontinued the MA OEP from 2011 through 2018. But the disenrollment period is now gone, and the MA OEP is back.)
Don't Worry — You Don't Have to Remember Everything
Medicare is complicated. That's why it's important to refer your clients to people who know all its complexities and can explain them clearly. You don't have to understand it all.
Medicare BackOffice is a support service that will answer your clients' Medicare questions and help them find Medicare plans. You simply refer clients to the friendly insurance agents at Medicare BackOffice, who are licensed, contracted and certified in all 50 states to provide Medicare advice and products.
Registering helps you track your referrals, get paid for referrals, and gives you a wide array of resources that educate you and your clients on Medicare.
If you are not registered as a Medicare BackOffice partner, register now so you can start helping your clients with the Medicare piece of the retirement puzzle.