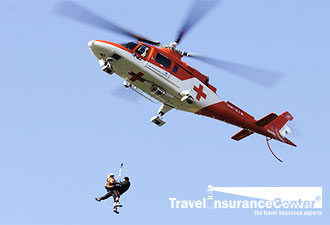 Your client didn't expect a fall to end his dream safari vacation. But now, in an African hospital with a broken hip and mounting medical bills, he calls you for advice: should he recover there for weeks, or dip into this retirement savings for the $100,000 he would need for medical evacuation to get home?
Many people don't understand that Medicare generally does not cover medical expenses during travel abroad and that Medicare Supplement plans typically only pay 80% of health care costs during foreign travel. But one medical emergency alone can rack up bills exceeding what insurance plans pay. If you have Medicare-age clients who travel internationally, you should understand the financial risks of medical issues during travel. One solution is travel insurance.
"At a minimum, we urge people to have a travel insurance plan that includes medical and emergency medical evacuation coverage," said Dan Drennen, director of sales and marketing at Travel Insurance Center, a travel insurance aggregator that helps customers find the best plan for the best price. "Post-departure coverage without the trip cancellation benefit is inexpensive compared to the expenses you could face."
Premiums for travel insurance are based on a person's age, trip length, and if trip cancellation coverage is wanted then also the prepaid nonrefundable cost of the trip. In general, Medicare won't cover health care you get while traveling outside the United States. Medicare Supplement, or Medigap, may offer additional coverage for health care services or supplies that you get outside the United States, but it typically does not cover 100% of costs, requires you to pay a deductible, and includes a lifetime cap. For example, Medigap Plans C, D, E, F, G, H, I, J, M and N pay 80% of the billed charges for certain medically necessary emergency care outside the United States after you meet a $250 deductible for the year. And, foreign travel emergency coverage with Medigap policies has a lifetime limit of $50,000 — a figure that easily can be hit with one major medical emergency.
Plus, it's important to note that the foreign travel benefit in Medigap policies does not cover medical transport back to the states, Drennen said. A medical transport to the United States via medical air ambulance can easily exceed $100,000.
Let's use a $10,000-per-person safari trip to South Africa to give you an idea of what travel insurance would cost. For a couple, both 72 years old, the Travelex Travel Select plan would cost $1,221 per person if insuring with trip cancellation coverage. But if your clients didn't want to pay that much, they could choose the Travel Select plan for post-departure coverage, meaning if they had to cancel they wouldn't be covered for trip cancellation. For only $69 each they can cover $50,000 of medical costs per person and $500,000 in medical evacuation per person. These are primary, first payer benefits. The Travelex Travel Travel Select plan would pay before a Medicare Supplement plan. Using the broken-hip scenario above, $147 — $69 for each, plus a $9 policy fee — is easier to swallow than the likely $100,000 for medical evacuation, not to mention any out-of-pocket costs incurred for the ambulance, surgery and hospital charges not covered by your client's Medigap policy.
Medicare BackOffice is a partner with Travel Insurance Center. If you have any questions about travel insurance, call Drennen and the other licensed travel insurance agents at at 1-866-979-6753, or email info@travelinsurancecenter.com.
To register so you can start referring clients, click here. You'll automatically be subscribed to the partner eNewsletter.