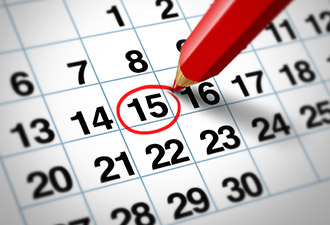 Today's announcement that there will be no benefit increase next year for millions of Social Security recipients also means that some of these same people face higher Medicare costs.
Your clients will hear, see and read about this double whammy today and in the coming weeks in the news … a lot. Are you prepared to answer their questions about how this will affect them?
Medicare BackOffice® helps financial advisors, registered reps, insurance agents, human resources benefits coordinators and other professionals by explaining how today's news affects your clients tomorrow — and by helping your clients, so you don't have to be a Medicare expert. To see how Medicare BackOffice works, watch this video.
While Medicare is complicated, we've boiled down today's news to what you need to know.
The government announced Thursday, Oct. 15, that because of low inflation, it will not issue a cost-of-living adjustment for Social Security benefits in 2016 — just the third time in 40 years that payments will remain flat. But a law prevents higher Medicare Part B premiums from being passed on to beneficiaries when they don't get a raise in their Social Security benefits. (Part B covers doctor visits and other types of outpatient care.)
If your clients have their Medicare Part B premiums deducted from Social Security automatically, they're protected from this premium increase. This is roughly 70% of Medicare beneficiaries.
The remaining 30%, however, will see their premium rise from about $105 to $159 a month — a 52% increase, the largest increase, by far, in the history of Medicare, according to The New York Times. (It could be even more for those with higher incomes.) Those who would pay the higher premiums include 2.8 million new beneficiaries, 1.6 million whose premiums are not deducted from their Social Security payments, and 3.1 million people with higher incomes, according to the Associated Press.
Some legislators have introduced bills that would freeze Part B premiums at their current rate for 2016. The White House could authorize actions that would spread out the increase among all beneficiaries, not just the 30%. But unless these actions are taken soon, some of your clients could face higher Medicare costs at a time when their Social Security benefit is flat.
The news certainly is stirring anxieties. Your clients might ask: Since I'm eligible for Medicare, should I enroll now or wait until 2016? Can I move to a different Medicare Supplement policy to offset the Part B increase? Because I'm in the higher income bracket, how much will my Medicare premiums increase? How does this news affect my Medicare Part D Prescription Drug plan?
For clients' questions about Medicare, you can refer them to Medicare BackOffice, a team of insurance agents who are licensed, contracted and certified in all 50 states to provide Medicare advice and products. They conduct a needs analysis with each client to ensure they arrive at decisions that are right for them. Because you're helping your clients answer these pressing questions, your referral only strengthens your relationship.
Even before the no-COLA announcement, Medicare was in the news and on your clients' minds because Medicare's Open Enrollment Period kicks off today, Oct. 15, and runs until Dec. 7. This is when Medicare beneficiaries can make changes to their Medicare Advantage or Medicare Part D Prescription Drug coverage for the coming year. Because plans can change each year, it's important that your clients review them for potential price increases or other changes. To see why an annual review is critically important with prescription drug coverage, watch this video.
Managing health care costs in retirement is a monumental concern, and the announcement of flat Social Security benefits and the looming Medicare cost hikes only reinforce the challenges ahead. To learn more about how Medicare BackOffice by Insuractive® can help, call Brian Hickey, vice president of Insuractive, at 402.343.3609.