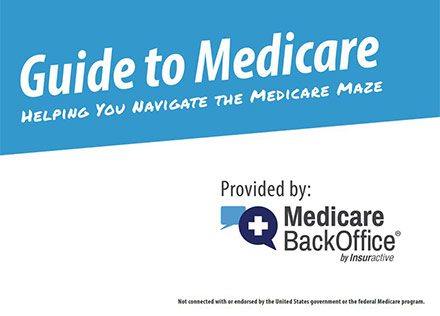 Health care expenses rank as the most pressing financial concern in retirement (41%), regardless of a person's wealth level, according to a 2014 study by Merrill Lynch with Age Wave. Now, you have a way of reassuring your clients that you will help them with this concern — the "Guide to Medicare: Helping You Navigate the Medicare Maze." Medicare BackOffice® created this guide so that you can give it to clients and remind them that they can turn to Medicare BackOffice to ask Medicare questions, compare plans and help them maneuver the enrollment or review process.
How to use the guide:
Email the guide to clients by simply copying and pasting this link into the body of the email, with a reminder that Medicare BackOffice is available to answer Medicare questions, help them navigate the initial enrollment process and review their plans annually for possible savings.
Print the guide, using the same link, so you have copies on hand to give to clients when the topic of Medicare comes up.
Read the guide. Even though helping your clients is our job, we still encourage you to know the Medicare basics covered in the guide. Being able to discuss the basics will help you build trust with clients. It also will help you better plan for clients' health care expenses in retirement. For example, it can help you:

Find your client's seven-month initial enrollment window in an easy-to-read chart
See what services and items Medicare doesn't cover
Learn about options for insurance that pays some expenses not covered by Medicare
Share the guide with your own family members, friends and anyone you think it can help.
What is the guide:
Available electronically to email or print, our guide is an easy-to-read, concise explanation of Medicare basics and also covers Medicare Supplement, Medicare Advantage and Medicare Part D Prescription Drug plans. The federal government's "Medicare & You" handbook spans 152 pages, while our guide is just 18 pages. Also included in and exclusive to the Medicare BackOffice guide are two helpful checklists, compiled by our collective Medicare expertise:
The guide also includes a helpful one-page explanation — "How Medicare BackOffice Works," which you may have already used from the Resources page. This walks your client through what they can expect when calling Medicare BackOffice and reminds them to provide your name.
Give the guide to:
Turning 65 clients: The guide can be particularly beneficial to the turning-65 client because their initial Medicare enrollment period is also the best time to buy a Medicare Supplement policy because insurers can't deny coverage or charge more if the applicant has health problems. If they wait to buy a Medigap policy, they might have to go through underwriting that could result in more costly premiums for years to come. There also are penalties for missing certain enrollment dates.
65 or older clients already on Medicare: Premiums, plans and drug formularies can change each year, so it's good practice to direct clients to review their Medigap and prescription drug coverage annually to make sure they aren't overpaying. The "Already 65 Checklist" tells them what they'll need to gather when they call Medicare BackOffice to review their coverage each year, including spaces to write their prescriptions.
Clients' caregivers who are helping manage your clients' health care and finances
Prospective clients
At Medicare BackOffice, we're dedicated to getting everyone the Medicare information they need to make educated decisions.
Not registered?
Register here so you can start helping clients get a handle on their health care costs in retirement. You'll automatically be subscribed to the partner eNewsletter after you register.