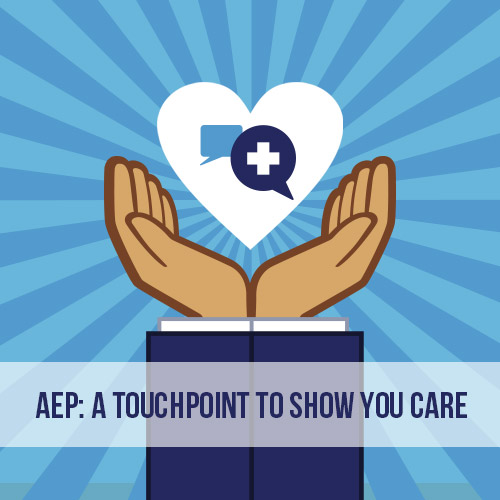 Medicare's Open Enrollment Period provides a meaningful touchpoint that can foster a deeper relationship with your clients age 65 and older.
The Open Enrollment Period, also called the Annual Election Period (AEP), starts Oct. 15 and runs through Dec. 7. This is when Medicare enrollees can make changes to their Medicare Advantage or Medicare Part D Prescription Drug coverage for the coming year.
How You Can Help Clients With AEP
Remind your Medicare-age clients (those 65 and older) that an annual review of their Medicare health insurance and Part D Prescription Drug plans is important to make sure they get the coverage they need, avoid overpaying and know about plan changes that could cost them thousands, especially with prescriptions.
As a Medicare BackOffice® partner, you can refer clients for a free annual review by our Licensed Insurance Agents.
We've made it simple. Just customize this email to your Medicare-enrolled clients. It communicates the importance and urgency of reviewing their Medicare plans in the coming months, demonstrating that you care about one of their top concerns — the escalating costs of health care in retirement.
To customize the email, simply add each client's name at the top and your name, title and contact information at the bottom. (You may need to have your compliance officer review the letter if your company policy requires so.) You can find this email on the advisor side of MedicareBackOffice.com under the "Resources-Library" tab by clicking on "Client-facing" materials.
For face-to-face meetings or calls with clients, remember these three basic steps:
Urge them to review their Medicare Advantage and Medicare Part D Prescription Drug plans during open enrollment.
Explain that failing to review these plans can result in costly mistakes.
Give them the Medicare BackOffice phone number — 1.877.385.8083 — to call for help, and remind them to tell the Licensed Insurance Agent your name, so that you get your referral fee.
What to Say
If bringing up Medicare or health care still make you nervous, refer to this tips sheet on how to have the Medicare conversation. It provides a sample script — just three simple sentences — of what to say near or in open enrollment. It also includes scripts for other opportune times to bring up Medicare — before a client's 65 birthday, when discussing taxes and when discussing Social Security.
To further assist you in your open enrollment discussions, we've listed some key talking points for you.
KEY TALKING POINTS
Be prepared by knowing the open enrollment basics. Review these commonly asked questions and their answers.
What is Medicare's Open Enrollment Period?
From Oct. 15 through Dec. 7 each year, it's when Medicare beneficiaries can make changes to their Medicare Advantage or Medicare Part D Prescription Drug coverage for the coming year.
Why is open enrollment and reviewing my plan now so important?
Medicare Advantage and Medicare Part D Prescription Drug plans can change each year, meaning the amounts you pay in premiums and deductibles could increase. Insurance carriers also can change their drug formularies, meaning a drug that costs you a few dollars each month could double or triple in price next year if dropped from your carrier's formulary. Reviewing your plans is one of the best ways to manage your long-term retirement plan because you can identify any changes that could add up expenses over time, or that could quickly lead to financial hardship. Plus, you could even find a plan with better coverage.
Can I change my Medicare Supplement during open enrollment?
Yes, if you have a Medicare Supplement plan instead of Medicare Advantage, it can be a good idea to review your plan because Medicare Supplement premiums and plans also can change. However, know that switching Medicare Supplement policies could require you to submit to a medical underwriting process that could result in a higher rate or denial based on its findings. (A Medicare BackOffice Licensed Insurance Agent can help explain if or how this could impact you.)
Why is an annual review of my Medicare Part D Prescription Drug coverage especially important each year?
If you have new medications, have switched medications or your insurance carrier changes its drug formulary, your costs could skyrocket if you don't carefully review your current plan. And switching to a plan because you can save on the monthly premium could be costly, too. The plans with the lowest premiums are not always the better financial choice. The cost of one month's worth of one drug that's not on your plan's formulary could exceed an entire year's worth of your monthly premiums. Watch this short video to understand the importance of comparing drug plans.